Edited a second time to add:
I have been called out! Okay, a cute question to encourage conversation. :-)
What is the first chapter book you remember reading?
Mine was the PeeWee Scouts series in 2nd grade. My mother purchased the series for Little K's Christmas and I'm having a great time rereading them with her.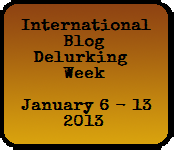 I wanted to say hello to all of you who are new to my little space. Between ICLW, Crème de la Crème, and Mel's Friday Roundup, there are so many new faces around here! Thank you to each one of you who has come by with comments, well wishes, and to just look around.
When I started this blog in 2011, I had no expectations about followers or comments or readers. In fact, it all started with the 2011 Crème de la Crème. I had been writing privately for a long time and, when Mel announced the CDLC, I immediately thought that, if I had a blog, this would be my submission for the list. I started up Donating Hope just in time to submit my post and some crazy how ended up winning the 2nd spot on the list that year.
A lot has happened since then. I completed my last cycle as an egg donor, my sister became pregnant, SSA moved out, I was diagnosed with VIN and had surgery, and R and I decided to start our own donor TTC journey together.
What a crazy ride!
I've been reading ALI blogs for over seven years now and am just starting to get consistent with commenting. In honor of International Blog Delurking Week, I would like to encourage you to say hello here. I'm so glad that you came by and hope that you stay a while.
Edited to Add: I just remembered 11/11 Make A Wish. My wish came true!